Oracle Discoverer, a 20-year-old, ad-hoc querying and analysis reporting tool, reached the official end of life on June 30, 2017.
Oracle Discoverer Replacement and Migration Options
Automating the Discoverer Migration Process
Oracle has been transparent about its strategic direction for business intelligence, which focuses on two platforms; Oracle Business Intelligence Enterprise Edition (OBIEE) and Oracle Business Intelligence Cloud Service (BICS).
Whether you're responsible for creating Microsoft Excel-like reports on financials, orders, sales, campaigns, campus activities, etc., or administering the data used for reporting, you're probably familiar with Oracle Discoverer. Those who work with Oracle Developer Tools, Oracle E-Business Suite, or Banner ERP have most likely used Discoverer at some point since it was pre-packaged in each suite.
Life After Oracle Discoverer: Which Migration Path is Right For You?
The general consensus is that Disco music died on July 12, 1979, after the infamous "Disco Demolition" event hosted by Chicago radio disk jockey Steve Dahl. Though Disco records continued to be released during the early 1980's, mainstream musical taste had already undergone a "lift and shift" to other genres.
Like the fate of Disco (music), most organizations have moved on to another "genre" known as Self-Service. Self-Service BI and Reporting is an approach to data analytics that enables business users to access and work with corporate data even if they do not have a background in statistical analysis, BI, or data mining. Self-service BI tools allow users to filter, sort, analyze and visualize data without involving the organization's BI and IT teams.
Before choosing a replacement for Discoverer, here are a few questions to consider:
Does it migrate reports or rebuild them?
Are service or consulting fees required to convert the reports?
Does it enhance the user experience?
How long does it take to implement?
Does it migrate reports to Cloud?
What does the migration process entail?
Does the tool align with your report/dashboard requirements?
---
OPTION 1:
Continue using Oracle Discoverer
Oracle Discoverer still provides the same basic reporting features that many know and have used for years. So, why fix something that still works?
Here are some things to consider if plan to continue using Discoverer:
You can still upgrade to the terminal release 11gR1.
If you're using Discoverer with Oracle E-Business Suite (EBS) ERP, you can still utilize the pre-packaged integration with the Oracle EBS and EBS Federal Financials module.
If you have thousands of reports, the amount of time it would take to migrate is reason alone to stay put. Though, chances are that many of those reports are either duplicate, triplicate, or outdated, so scrubbing down to only the essential reports is an exercise that will help reduce report count and development time.
If only a small or insignificant amount of your reporting is done through Discoverer, it may not make sense to migrate from a business standpoint.
What's at stake?
While your day-to-day reporting and licensing will remain the same, the cost of a few iterations can exceed that of a replacement or migration project. Oracle's Sustaining Support policy excludes the following:
New updates, fixes, security alerts, data fixes, and critical patch updates
New tax, legal, and regulatory updates
New upgrade scripts
Certification with new third-party products/versions
Certification with other Oracle products
Failed Integration: You run the potential risk of failed integration with the latest versions of Oracle E-Business Suite, and any new desktop, browser, or Windows OS updates. You won't be able to integrate Discoverer will Oracle Database 12c or later or any of Oracle's Cloud applications.
Business Impact: The traditional way of building ad-hoc reports has fallen out of favor in place of self-service reporting that allows users to create reports and dashboards from multiple devices without requiring significant involvement from IT. Having access to better tools to track and trend metrics that matter most to the business is critical and can have an impact on the advantage you have over your competitors.
---
OPTION 2:

Migrating from Discoverer to Oracle BI Foundation Suite / OBIEE
The Oracle Business Intelligence Foundation Suite provides the industry's best-in-class platform for business intelligence, including ad-hoc query and analysis, dashboards, enterprise reporting, mobile analytics, scorecards, multidimensional OLAP, and predictive analytics, on an architecturally integrated business intelligence foundation.
This enabling technology for custom and packaged business intelligence applications helps organizations drive innovation, optimize operations, simplify IT, and deliver extreme performance at a lower total cost of ownership.
Read this blog to learn more about the benefits and drawbacks of migrating from Oracle Discoverer to OBIEE.
OPTION 3:

Migrating from Discoverer to Tableau
Tableau's powerful packaged BI offering allows users to drag and drop to analyze data, connect to data in a few clicks, and visualize and create interactive dashboards with a few more.
Key Features of Tableau
Easy to use but requires SQL knowledge
Can be connected to many different data sources to import and use data.
Subscription-based licensing can help organizations optimize costs
Ability to deploy Tableau in the Cloud or on a local server
Ideal for data visualizations
In-memory processing
Limited security options
Fast development speed
Discoverer to Tableau Migration Process
Many organizations select Tableau due to its abundance of self-service features available out of the box, data visualizations, scalability via ease of upgrade, and affordable licensing. We have used our automated ennSight tool to extract and migrate Discoverer reports to Tableau. (The migration process is similar to that of Power BI).
Here is how a sample Oracle Discoverer report looks in Tableau: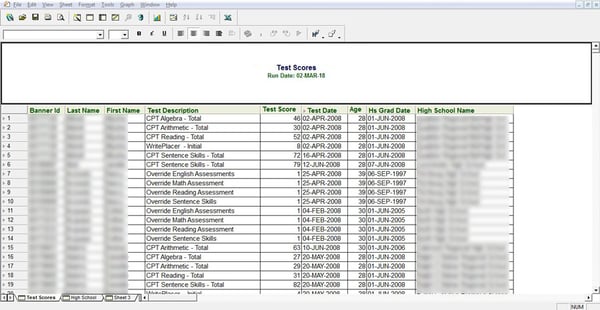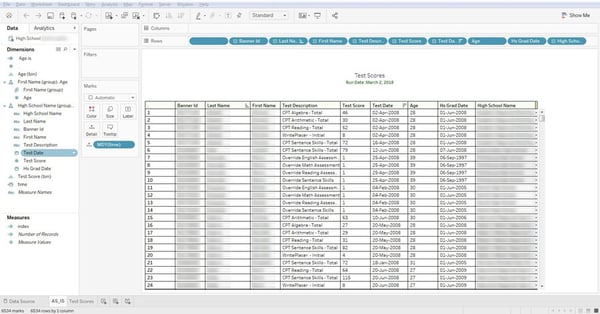 ---
OPTION 4:

Migrating from Discoverer to Power BI
The Discoverer to Power BI migration path is the least intensive in terms of cost, time, and resources. In many cases, we have helped clients migrate from Discoverer to Power BI in conjunction with an internal Windows OS, desktop, hardware upgrade, or Office365 migration project. These initiatives can be executed simultaneously without exceeding the budget or requiring a significant commitment from client resources (should the client decide to hire a third-party consulting company to lead the migration).
Read this blog to learn more about the benefits and drawbacks of migrating from Oracle Discoverer to Power BI.
OPTION 5:

Migrating from Discoverer to Microsoft SSRS
Microsoft SQL Server Reporting Services (SSRS) is a server-based reporting solution that customers deploy on their own premises for creating, publishing, and managing reports, then delivering them to users via web browser, mobile device, or email. SSRS offers mobile and paginated reports, as well as a modern web portal to access all reports in one location.
Key Features and Considerations for Microsoft SSRS
Provides a Report Builder tool for end users to design and format simple reports
Interfaces directly into Microsoft Visual Studio
Role-based security: strong on-premise security control
Requires purchasing SQL Server licenses
Supports ad hoc reports
Installation, configuration, and management can be cumbersome
Lacking report visualization capabilities compared to other platforms (i.e. Power BI)
Discoverer to SSRS Migration Process
There is no automated utility or tool available to import the reports from Discoverer to SSRS, so migration is done manually. The only utility available to automatically extract the reports from Discoverer is our ennSight tool. ennVee recently helped one of the top-ranked colleges in the US migrate from Discoverer to SSRS in 8 weeks without having to rebuild any of its reports.
What to expect when migrating to Microsoft SSRS
Migrate the reports "as-is" to SSRS: Before enhancing the front-end UI. This will help you avoid additional re-work and errors, plus you have more flexibility to manipulate the data and create dashboards in SSRS if you're only working with the same tabular layout that existed in Discoverer.
Test the reports: Test before deploying the migrated to Production. During this part of the process, feedback from the business users is critical to ensure that the reports function and perform as expected. In our experience, this is also the optimal time to enhance the front end of the reports in SSRS.
Enhance the front-end in Power BI: The free, Cloud-based version of Power BI is bundled with most Office365 licenses. Power BI can be used to augment the front end of the SSRS report by adding charts, and graphs, and creating dashboards.
Discoverer to SSRS Success Stories
OPTION 6:
Migrating from Discoverer to Cognos
IBM's BI and performance management software suite, Cognos, allows business users to easily extract and analyze data and build reports. Cognos does not provide an automated utility to migrate reports from Discoverer to Cognos. The traditional way to migrate from Discoverer to Cognos is to re-create the reports in Cognos. This can be costly both from a time and resources perspective.
Read this blog to learn more about the benefits and drawbacks of migrating from Oracle Discoverer to IBM Cognos.
OPTION 7:
Migrating from Discoverer to Reports Wand
Excel4Apps' Reports Wand is another popular replacement for Oracle Discoverer. Reports Wand uses a Microsoft Excel front-end interface for Oracle E-Business Suite data and allows users to create visual reports on the fly. The platform is geared towards Oracle EBS and SAP users.
Once the SQL is extracted from Oracle Discoverer, it can be migrated to Reports Wand.
High-level migration process:

Read how ennVee helped an electric motor manufacturer migrate from Discoverer to Reports Wand.
Leveraging automation to migrate from Oracle Discoverer to any platform
ennSight is a proprietary tool that we use to automatically identify all reports and extract the SQL from Discoverer, before migrating to a range of platforms.
Where you can migrate with ennSight:
| | |
| --- | --- |
| | |
| | |
| | |
| | |
| | |
| Open Source Platforms | Third-Party Platforms (i.e. Reports Wand) |
How ennVee's Discoverer Extraction & Migration process works

Watch this video (1:15) to see how ennSight automates the Oracle Discoverer extraction and migration process.
Step 1 — Automatically identify all Discoverer reports and elements
In some cases, you may already know how many reports you own and which ones you want to migrate. Although, most of the time, the actual number of reports is much higher.
We run ennSight to identify every Discoverer report in the system, including any duplicates, triplicates, outdated, or obsolete reports. ennSight builds a list of each report by name, number of workbooks and worksheets, files, folders, who owns the report, the last time the report was run, and the time and effort required to extract, migrate, and test each report.
One thing to keep in mind is the number of reports you want to migrate. The assessment helps you identify and eliminate any unused or non-value-added reports like duplicates or triplicates.
Example scenario: 25 reports with 100 worksheets in each report or 100 reports with 1 worksheet in each report.
In this case, extracting and migrating the 25 reports would be more time and resource intensive than the 100 reports with 1 worksheet. The same example can be applied to reports with multiple workbooks, conditions, joins, files, folders, etc.
The assessment concludes with the creation of a migration road map and project plan, which includes scope, conversion timelines, and fixed-bid pricing options to migrate to your platform of choice. Ultimately, the goal is to help you budget for your Discoverer migration project, and determine whether to complete the project internally or use ennVee's services. Regardless of how you choose to approach the migration, you need to have a project plan with scope and pricing.
Step 2 — Automatically extract the report SQL from Discoverer
ennSight automatically extracts the following elements and objects from Discoverer:
| | |
| --- | --- |
| Reports | Classes |
| Infrastructure | Hierarchies |
| Folders | Roles |
| Calculations | Security |
| Filters | Report Owner Information |
| Conditions | Business Rules |
| Joins | Workbooks and Worksheets |
Step 3 — Migrating, Testing, and Enhancing the Reports
The extracted Discoverer SQL is manually imported into the target platform. There are limitations with each platform such as the inability to automatically bulk import data. Another challenge is the lack of equivalent fields or elements, which requires rebuilding the Discoverer reports. This is a factor when migrating from Discoverer to OBIEE or MicroStrategy.
No visual enhancements are made to the reports prior to migration. The migrated report will look the same as the Discoverer report. The reason we migrate the reports "as-is" is to avoid any potential errors and speed up the process. Additional enhancements can be made once the reports are successfully migrated and deployed to Production. (In some cases, you may just want to see the same tabular layout that exists in Discoverer).
After the business users have unit tested each report, we deploy the reports to Production and provide support for a 2-week period.
Closing Thoughts
Let's be honest, migrating from Oracle Discoverer is not a top priority for most, but it is a project that needs to be done at one point. Our proprietary automation tool and migration services have helped organizations migrate from Oracle Discoverer under tight timelines and budgets. The standard cost of each migration is fixed-bid with a 2-10-week timeline.
Because we automate most of the labor, the cost and duration of the extraction and migration are cut in half. We also guarantee a 100% success rate and have helped organizations migrate thousands of Discoverer reports to Power BI, Tableau, Cognos, SSRS, etc.
Further Reading:
Explore more of our Oracle Discoverer migration blogs and case studies.