The features, benefits, and drawbacks of migrating from Oracle Discoverer to IBM Cognos.
What is Cognos?
Cognos is a business intelligence (BI) and performance management software suite provided by IBM. Cognos enables users without technical knowledge to extract corporate data, analyze it, and assemble report.
Cognos Key Features and Drawbacks
Cognos provides Ad-Hoc Analysis and Reporting, customizable dashboards and features, forecasting and budgeting, and automatic scheduled reporting.
Strong multi-source capabilities:

Can be used with relational and multidimensional data sources from vendors like Oracle, SAP, and Microsoft
Complex metrics management

Enterprise class security.
No SQL knowledge is required for self-service reporting.
Business modeling and mapping layer.
Requires assistance from IT to build reports and dashboards.
Best suited for medium to large scale businesses.
Oracle Discoverer to Cognos Migration Process
There are two ways to extract the SQL from Oracle Discoverer prior to migrating to Cognos. (The Discoverer to Cognos migration process is manual).
Option 1 - Manually extracting the Discoverer SQL and importing into Cognos.
Option 2 - Using an automated tool like ennSight to extract the SQL. (This article will cover migrating from Discoverer to Cognos using ennSight).
Extracting SQL from Discoverer
ennSight's custom logic automatically extracts the Discoverer SQL and business rules, including security details and report access and owner information.
Migrating Discoverer Reports to Cognos
The SQL is manually imported as raw data into Cognos. Once imported, the output will match that in Discoverer, so you can design the front-end in Cognos (dashboard, graphs, etc.). Our recommendation is to migrate the reports "as is" without enhancing the front-end visualizations until the converted reports have been tested to ensure functionality in Cognos.
Testing Converted Reports in Cognos
The converted reports need be unit tested by the business users before being deployed to the production Cognos server. After each report has been validated, users can start building dashboards and visualizations from the converted reports in Cognos.
How does a Discoverer report look in Cognos?
Example tabular report in Oracle Discoverer before and after being converted to Cognos: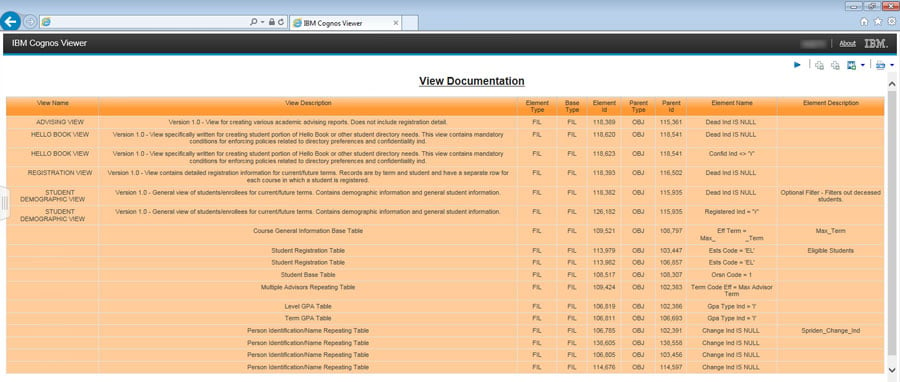 Considerations when migrating from Discoverer to Cognos
1. Know exactly which reports absolutely need to be migrated
You should know which reports are most frequently used and which ones are duplicate or obsolete. This will help you reduce the amount of time, cost, and effort required to migrate. If you have used Discoverer for many years, there will likely be a number of reports that are duplicates or triplicates. You can either combine or sunset those reports to reduce the total report count. Feedback from business users is critical.
2. Convert Parameterized and Cross-Tab Discoverer reports
This is a challenge specific to migrating from Discoverer to Cognos. As a workaround, the parameterized reports can be built through "Prompt Value" to obtain the parameter value for all reports.
3. Metadata Extraction
The Discoverer reports' metadata / SQL can be extracted manually or using an automated tool like ennSight. You can selectively import reports into Cognos and use the remaining metadata however you prefer. Prior to importing the SQL, you can also make changes and add elements and fields using the metadata. The same can be used to rebuild the reports entirely if you prefer to do so, rather than keep the same layout that exists in Discoverer.
Closing Thoughts
Pros of migrating to Cognos
Cognos is "in support" and will continue to receive regular updates.

The process of moving from Discoverer to Cognos is relatively straightforward, which provides more options for customizing the converted reports post-migration.

Strong multi-source capabilities.
Drawbacks of migrating to Cognos
Converting parameterized and cross-tab reports from Discoverer to Cognos can be tricky. Take a look at our workaround.

IT assistance is required to build reports in Cognos.
Further Reading:
Check out our other Discoverer blogs for migration case studies and tips.
---