The features, benefits, and drawbacks of migrating from Oracle Discoverer to Microsoft Power BI.
Overview
Microsoft's Power BI is a business intelligence platform that offers data warehouse capabilities, data preparation, data discovery, and interactive dashboards. Over the past few years, Power BI has become one of the top business intelligence tools available.
Power BI is comprised of the following tools:
| | |
| --- | --- |
| Power BI Service | The saaS-based version included in Office365 |
| Power BI Desktop | PC and desktop version for designing and publishing reports to Power BI Service |
| Power BI Mobile Apps | Android, iOS, and Windows phones/tablets |
| Power BI Gateway | Syncs external data in and out of Power BI |
| Power BI Embedded | The Power BI REST API allows you to build reports and dashboards into custom applications for Power BI users and non-Power BI users |
| Power BI Report Server | On-premise reporting for organizations that will not or cannot store data in the cloud-based Power BI Service |
| Power BI Visuals Marketplace | Location for purchasing custom visuals |
Power BI Key Features and Drawbacks
"Out of the box" data modeling and self-service analytics.
Ideal for predictive modeling and reporting.
Those familiar with Microsoft products like Azure, Office365, and Excel can expect a seamless transition from Oracle Discoverer, as Power BI uses existing Microsoft systems for building data visualizations.
A free version of Power BI is bundled into Office365 subscriptions (this version does not allow you to connect Power BI to different data sources, but you can still import compatible file types and manipulate the data to create reports).
The low learning curve makes Power BI ideal for non-technical users rather than data analysts.
Performance can become slow when handling bulk data (as a workaround, use direct connections rather than the import functionality).
Security options are limited compared to other third-party platforms.
Migrating Oracle Discoverer Reports to Power BI
There are two ways to migrate Discoverer reports to Power BI:
Option 1 - Manually extracting the Discoverer SQL and importing into Power BI
Option 2 - Using an automated tool like ennSight. (This post will cover the conversion process using ennSight).
Extracting the Discoverer report SQL
ennSight's custom logic automatically extracts the Discoverer SQL and business rules, including security details and report access and owner information. The extraction process can also be done manually, which is feasible for smaller batches of reports.
Migrating Discoverer Security to Power BI
Using ennSight, the security from Discoverer can be transferred over to Power BI, and report access can be restricted to the user level. Power BI is strictly desktop or browser-based, so no concept of business areas exists here and there is no administrative piece.
Security for Business Area (BA) Access cannot be migrated from Discoverer due to a limitation in Power BI. Power BI only works on the SQL path and not BA.
Microsoft Active Directory can be used to identify who owns each report and restrict access based on roles for the data, but not the complete report. If you develop a single dashboard or report or gave access to one person, you can define the roles based on geography so that only certain data is available to the user.
Microsoft SharePoint can be used to grant access and share report owner information. The mapping needs to happen from an Active Directory / Single Sign-On standpoint.
Migrating Discoverer SQL to Power BI
The SQL is manually imported as raw data into Power BI. Once imported, the output will match that in Discoverer, so you can design the front end in Power BI (dashboard, graphs, etc.).
How do Discoverer reports look when converted to Power BI?
Here's an original Discoverer report for All Customers With Profile Details: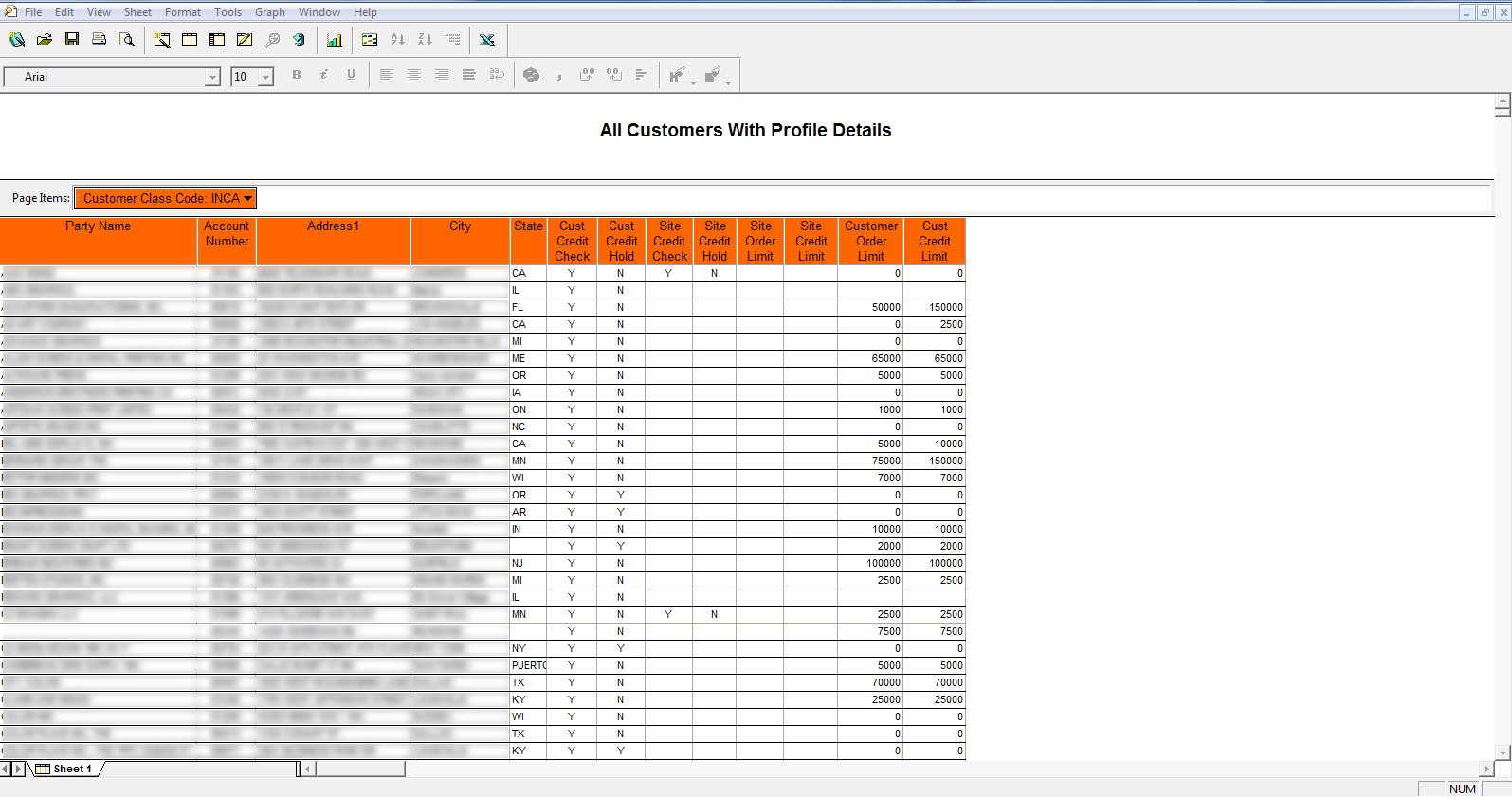 Here's the same report converted to Power BI and enhanced with charts and graphs.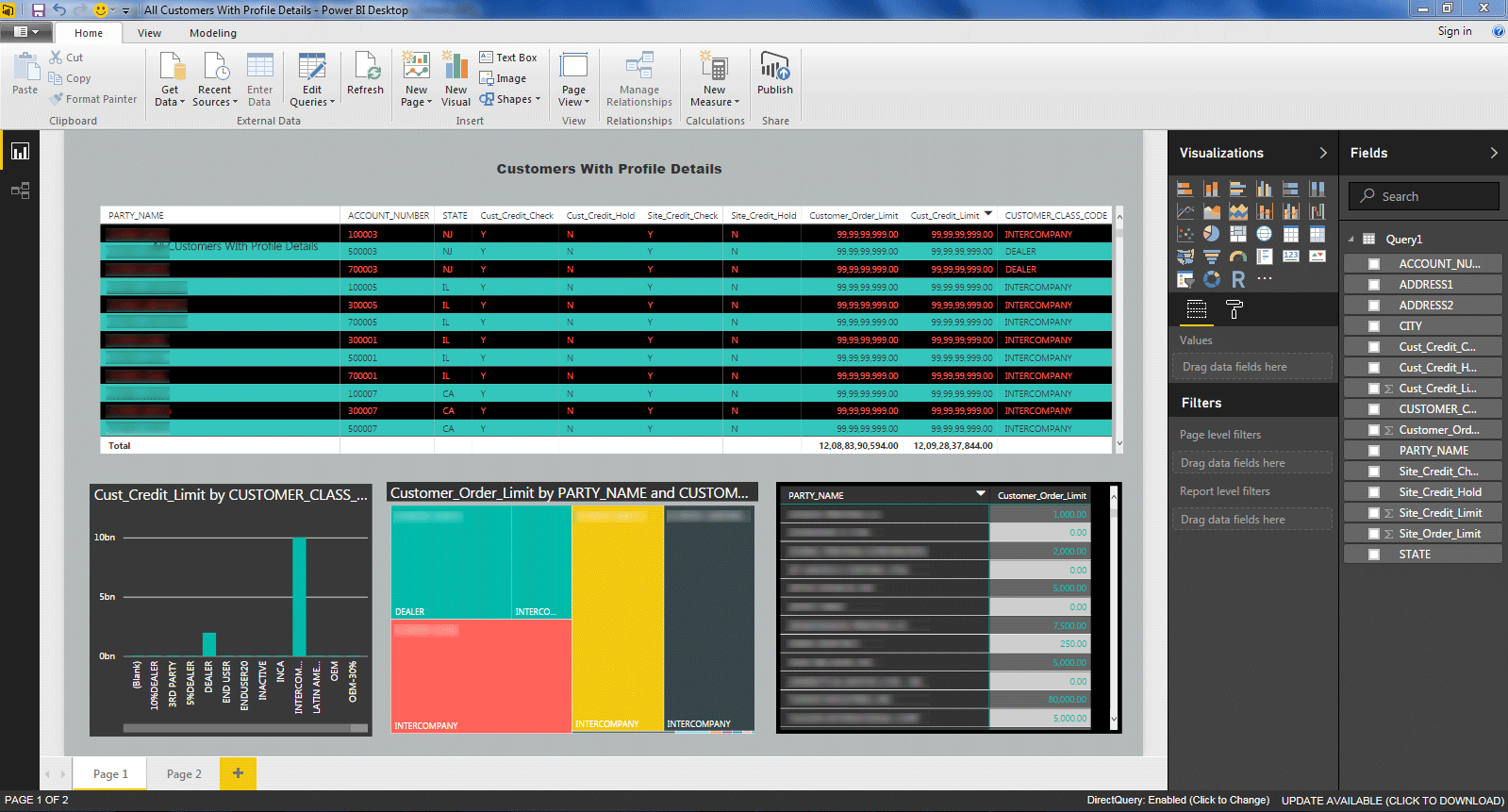 Here's another example Discoverer report for Sales Orders: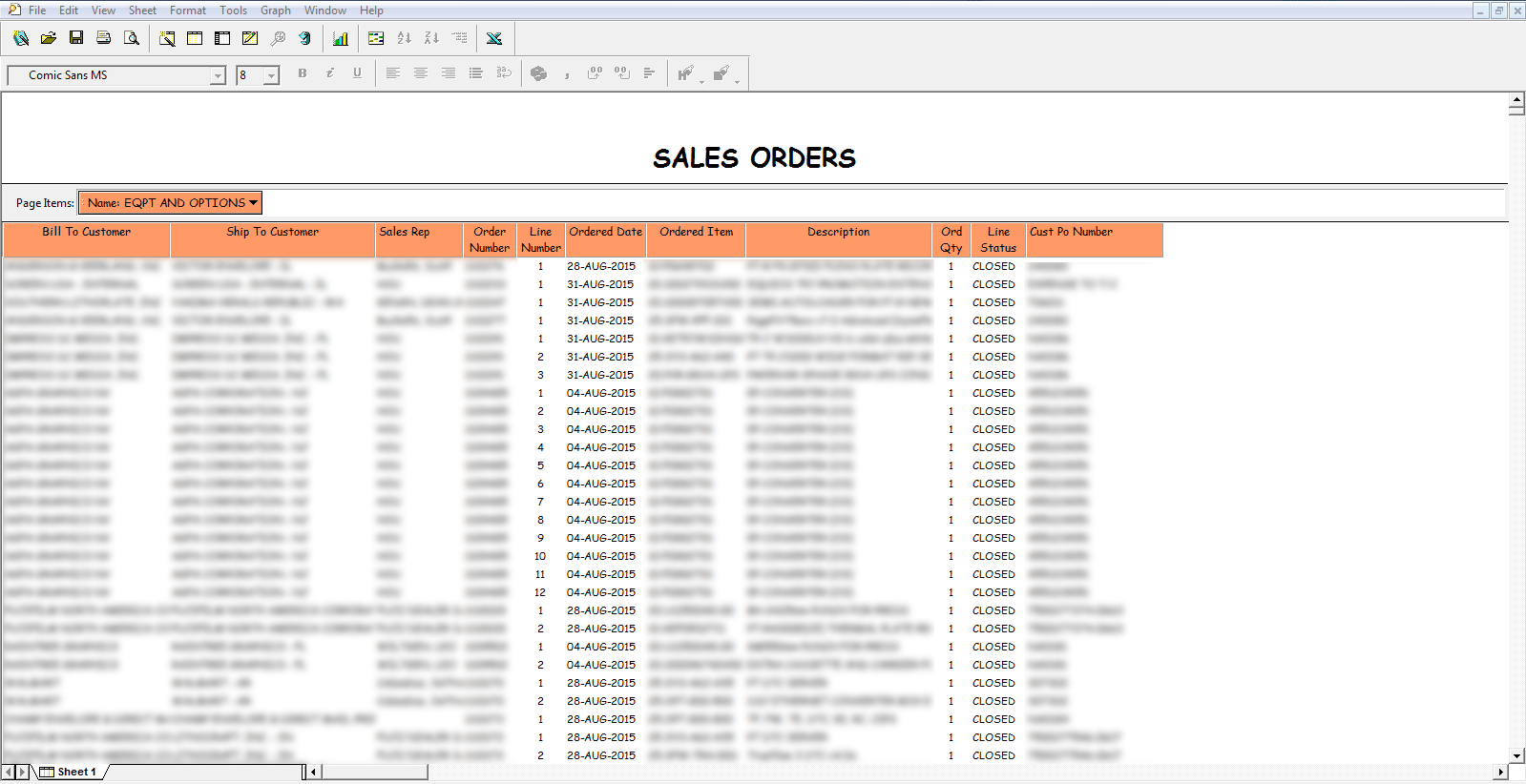 Here's the same Sales Orders report in Power BI with added visualizations: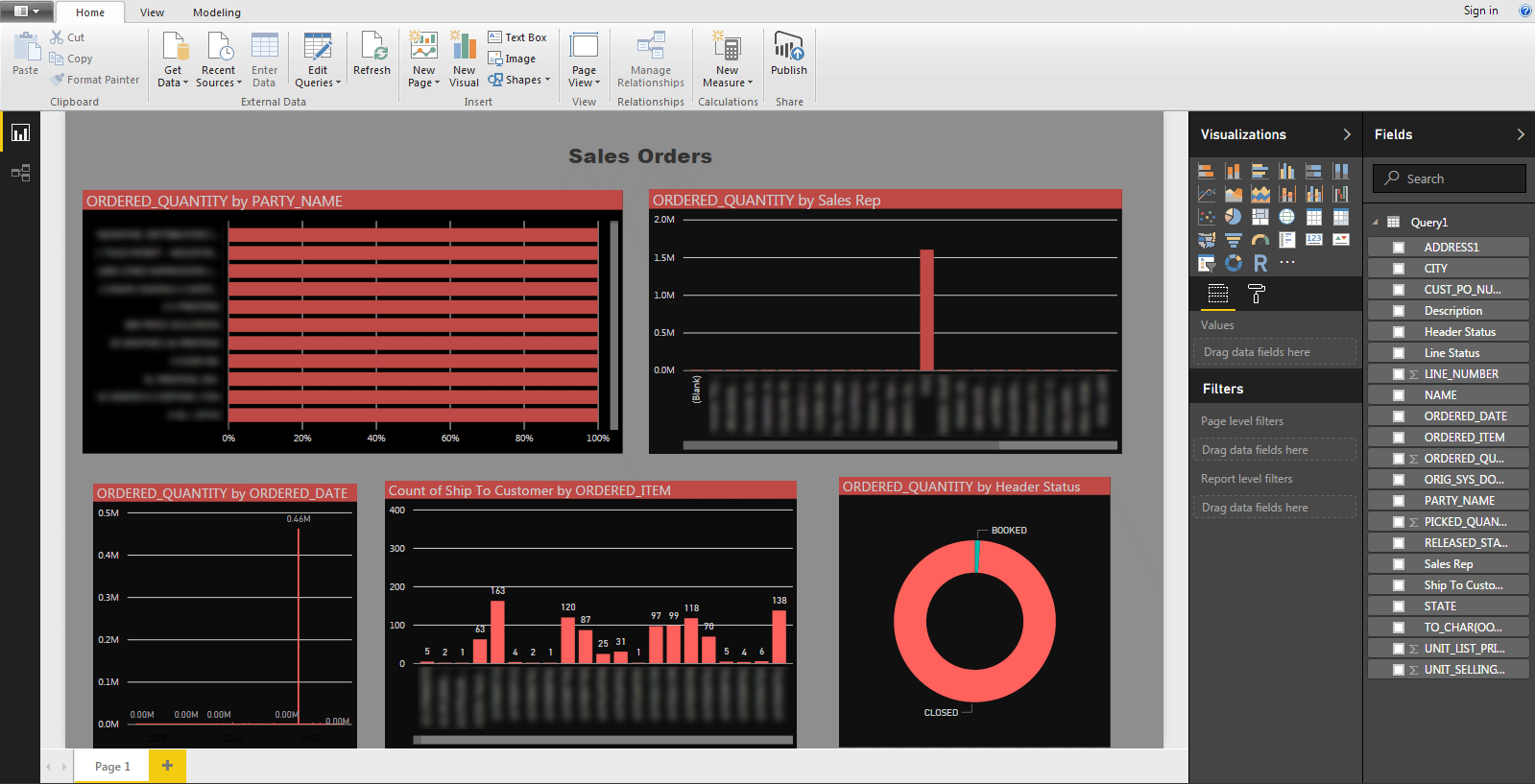 Here's a third Discoverer report for Service Request Billing: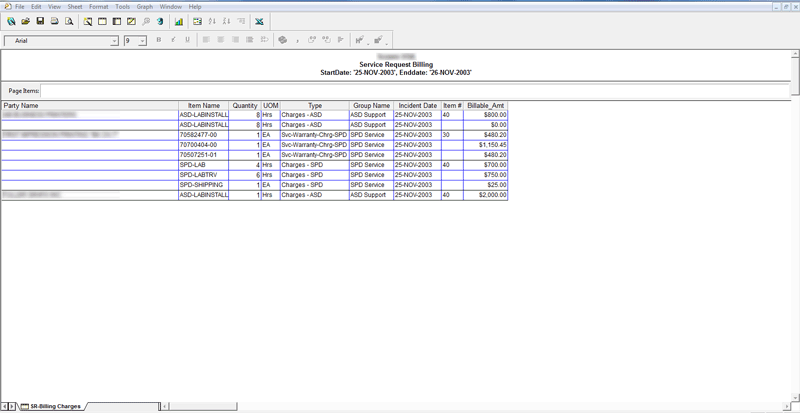 When the report is converted to Power BI the tabular layout is identical to that in Discoverer: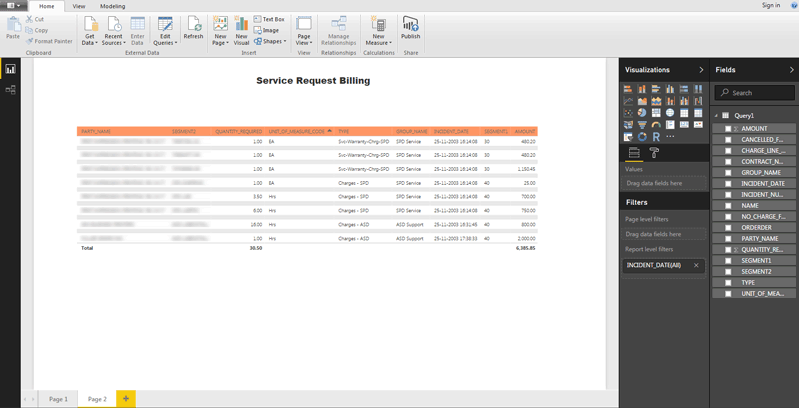 Here's the same Discoverer report in Power BI with added visualizations like charts and graphs: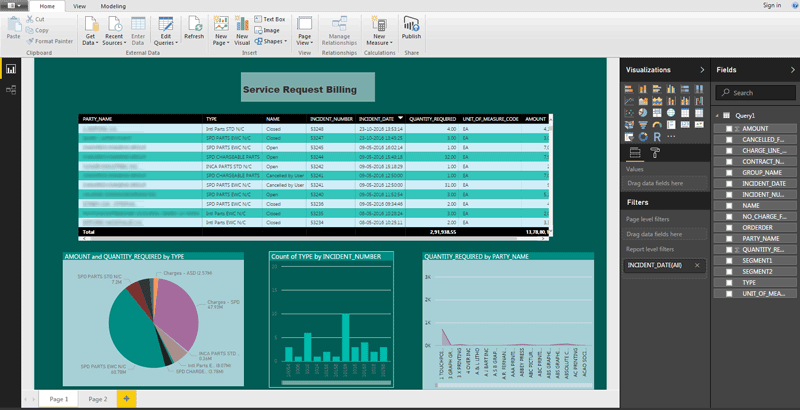 Considerations when migrating from Discoverer to Power BI
The Discoverer to Power BI migration path is the least intensive in terms of cost, time, and resources. In many cases, we have helped clients migrate from Discoverer to Power BI in conjunction with an internal Windows OS, desktop, hardware upgrade, or Office365 migration project. These initiatives can be executed simultaneously without exceeding the budget or requiring a significant commitment from client resources (should the client decide to hire a third-party consulting company to lead the migration).
Learning Curve - Power BI has a very low learning curve, which makes it easier for non-technical users to learn how to use it when migrating from Oracle Discoverer.
SQL Extraction - Once the SQL is extracted from Discoverer, it can be manually migrated into Power BI. Power BI does not allow users to automatically import bulk, raw SQL.
Recommended Migration Path - We recommend migrating the Discoverer reports "as-is" into Power BI, so they match the same output in Discoverer. This will help reduce errors during testing and migration, and allow the business users to enhance the reports in Power BI however they see fit.
Version Requirements - Power BI Professional version is required to import the Discoverer report SQL. The Professional version allows users to share data, security details, roles, and access information. This cannot be done using the free web version of Power BI bundled into Microsoft Office365.
Summary
Pros of migrating to Power BI
Users can easily create visual reports without help from IT create visual reports without IT help.

The extraction and migration process from Discoverer to Power BI is less complex than that of OBIEE or MicroStrategy, which translates to a shorter project with less chance of error.

Easy to transition to Power BI due to it coming pre-packaged with Office365 subscriptions.
Cons of migrating to Power BI
Limited security options.

You may encounter some performance issues when handling bulk data.

Power BI Professional (Desktop) version is required to import the SQL from your Discoverer reports and to share security details, roles, and access information.
Case Studies
Discoverer to Power BI migration for a US municipality
Discoverer to Power BI migration for an inkjet printing technology company
---
Check out our other Discoverer blogs for migration case studies and tips, and view our Oracle Discoverer replacement options guide. You can also learn more by exploring ennVee's automated Discoverer migration tool and services.