How a city in the US successfully migrated from Oracle Discoverer to Power BI.
Contents
Background
Oracle Discoverer has been the BI tool of choice for many years due to its intuitiveness, ease of use, flexibility and most importantly minimum cost. Hence, organizations have made significant investments in this tool and have depended on Discoverer for decision support. With the end of Oracle Discoverer, many organizations are facing the challenge of finding a BI tool to fill this gap. Bottom line, Oracle Discoverer customers have three options: stick with the unsupported Discoverer tool, migrate to OBIEE, or find a third-party solution.
With an understanding of the hidden challenges, ennVee's Oracle Discoverer converter tool 'ennSight' helps companies migrate Discoverer reports to a number of platforms. One of these platforms includes Power BI, which is an ideal replacement for Discoverer due to easy data access, better organizational insights, and offering one of the fastest time to value in the industry.
A mid-size US city needed a Discoverer reports migration that would provide a fully integrated report migration environment and improve corporate performance. They selected ennVee to lead the migration using its automated extraction tool, ennSight.
Migration Objectives
Find a cost-effective way to migrate off the unsupported Oracle Discoverer platform to the supported Microsoft Power BI platform.
Find a solution that provides a fully-integrated report migration environment and improves corporate performance.
Migrate 99 Discoverer Workbooks (112 worksheets) to Power BI
Key Reports To Be Migrated:
Expected Revenue History details
Vendor details
Revenue reports
Payment Summaries
Leave Balance reports
Reasons for Migrating from Discoverer to Power BI:
Power BI is ideal for building quick prototypes.
Power BI has a low learning curve compared to other BI platforms, and its ease of use empowers business users to create self-service reports.
Power BI provides features that the city needs such as a strong backend data manipulation with access to simple visualizations.
Licensing is cost-effective and a free version is available with a 1GB dataset limit.
Solution Components
Oracle Discoverer Desktop (10g), Discoverer Plus, Discoverer Administrator
ennSight Discoverer extraction tool
Microsoft Power BI Desktop
Migration Approach
Pre-Migration Assessment— Run the ennSight tool to automatically identify all reports by the last run date, owner, and number of files, folder, business areas, etc. in each.

We identified a total of 6,636 Discoverer reports. Many were duplicates or outdated, so the City was able to filter the list down to 99 Workbooks comprised of 112 worksheets.

Extraction — Using ennSight, we automatically extracted the report SQL from Discoverer.
Migration — The extracted SQL queries were manually migrated into Power BI. To speed up the migration process and eliminate the need to re-build, no additional visualizations or enhancements were made to the front-end of the reports.
User Testing & Enhancements — After the City verified the functionality of the converted reports, the reports were deployed to Production and enhanced in Power BI by building graphs, charts, dashboards, etc.
Final Report Output:
Oracle Discoverer: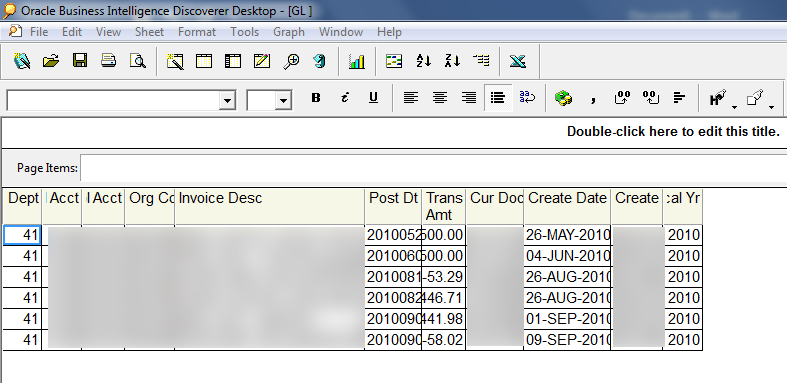 Power BI:

Outcome and Future Benefits
The migration was completed successfully and provided the City with the right reporting platform it needs to effectively manage Vendor Payments and track employee leave time.
Additional Resources and Further Reading:
Check out our other Discoverer blogs for migration case studies and tips.
---