Implementing a smart, automated NetSuite promotions and rebates management platform to improve the Channel Partner experience, and reduce the amount of time required to fulfill a promotion or rebate.
Understanding the Channel Sales Process
The client sells wireless broadband solutions in a three-tier channel sales model. Within the channel network, products are sold through more than 3,000 distributors. When the distributors request a discount over and above the normal discount level, the estimate goes through a price exception process, which is documented and approved in NetSuite.
The sales order with the distributor occurs at a regular discount level. The distributor becomes eligible for a rebate after they sell to the end customer and show proof of sale via POS reporting. The Sales Business Operations team currently performs this rebate calculation and disbursement of credit manually.
While these dynamic pricing strategies have been successful in boosting top-line growth and market share, there were a number of key challenges.
| | |
| --- | --- |
| Challenge #1 | The promotions and rebates process relied heavily on middle office people, multiple spreadsheets, and manual processes to fulfill each transaction. |
| Challenge #2 | A disjointed process and multiple data sources impacted the corporate financial statement - the accrual for unclaimed promotional and rebate discounts was catching the attention of the CEO, CFO, and board of directors. |
| Challenge #3 | Distributors had no way to track the status of their promotion and rebate claims or where they stood as they sold inventory to end customers. |
| Challenge #4 | Invoice payments were being 'held hostage' pending Credit Memo issuance. |
| Challenge #5 | There were Numerous unauthorized flavors of rebates and promotional pricing were being issued as 'side deals' with no visibility or governance. |
Objectives
Improve the Channel Partner rebate and promotions experience
Reduce the amount of time required to fulfill a promotion or rebate
ennVee's Solution
1. Automate the entire process of rebate calculation, checking against claims, and creating a credit memo in NetSuite using the rebate module in NetSuite.
To automate the rebate calculation process, ennVee designed and delivered a fully orchestrated, intelligent, automated process to encompass the full lifecycle of promotion and rebate management.
2. Implement a new Promotions and Rebate Portal to improve the Channel Partner experience.
The layout and navigation of the portal were designed to provide a modern omni-channel experience. The following features were created to improve ease of use:
Site navigation was reduced to no more than two clicks, with the intent to increase customer adoption and sunset other manual processes.
A common login (single sign-on) with other client sites used by the client's external customers was implemented. This enabled users to log into one site and navigate to the promotions and rebate portal with no more than two clicks. Additionally, users would not be required to re-enter their login credentials after logging into one of the client's other sites.
ennVee designed a responsive layout supporting mobile, tablet, and smartphone devices, which provided a highly usable and intuitive interaction.
Site Configurability — The portal was entirely configurable and simple to maintain, which reduced the cost of ownership.
Legal Compliance — To comply with legal requirements, the client was able to add to the portal a statement for Legal, Terms and Conditions, and Privacy.
Channel Operations dashboard within the Partner Rebate portal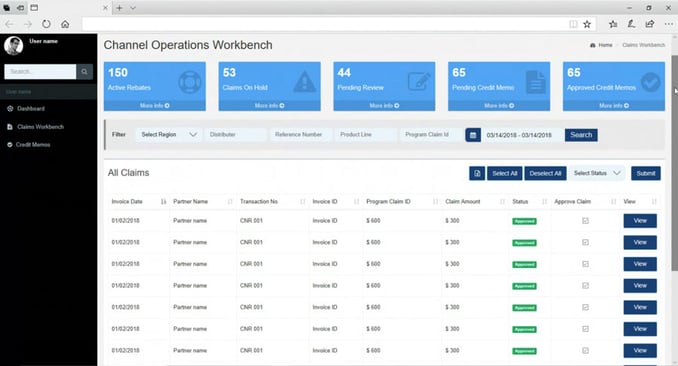 Key Features
A secure, cloud-based solution using a lightweight, configurable rules engine providing flexibility and governance of promotional and rebate pricing eligibility, transaction validation, and calculations.
Seamless, real-time integration between the Rebate Management hub and the Point of Sale data, channel partner deal registration system of record, and NetSuite ERP.
A modern user experience accessible from any device gives Channel Operations and Channel Partners a common view of promotions and rebates, visual claim queues, credit memos pending, and more.