A student transportation services company transitioned a major portion of its business to an AR Dispute approval hierarchy process using Oracle AME.
Contents
Want to read later?
Background
The client operates and maintains a massive fleet of 21,000+ buses that services close to 600 schools districts nationwide. With a fleet of that size, the client needed an Oracle AME (Approvals Management Engine) based solution that integrates with their existing Oracle E-Business Suite system (R12.1.3). Based on the selected business model, ennVee was asked to provide a cost-effective, AME-based solution that integrates with the client's existing Oracle E-Business Suite ERP.
Solution Components
Oracle E-Business Suite (EBS) R12.1.3
Oracle Approval Management Engine (AME)
Workflow
Solution Approach and Features
Implement AME (Credit Memo Approval Process) based on Job hierarchy and approval limits within the company's application architecture framework.
Build an integration that utilizes a single set of master product data between both applications, automatically generates approvals, and sends notifications to the right employee.
Provide a single solution for the entire Receivable Dispute process, from generating custom approvals, to allowing the client's customers to seamlessly submit disputed invoices, and generating approved credit memo invoices through a customized workflow.
Solution Process
Set up AME approval process by creating approval hierarchy, approval groups and rules
Enable AME setup by using Profiles
(AME: Installed, AR: Use Oracle Approvals Management in Credit Memo Workflow)
Include the Custom Approval Process in Credit Memo Workflow
Enable Oracle AME in the Receivable Process in Oracle EBS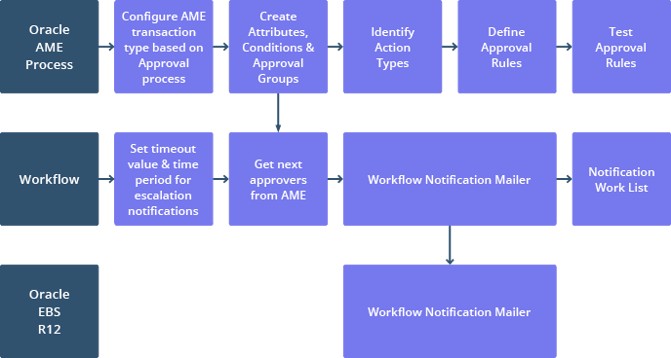 Steps in Oracle EBS
Setups needed to access the Collection Form
Set profile option as YES for the profile below:

Profile option name1: -- AME:installed
Profile option name2 -- AR: Use Oracle Approvals Management in Credit Memo Workflow
Outcome and Future Benefits
Minimized manual, time-intensive proposal generation
Elimination of redundant data
Maintaining consistent credit memo invoice approval
Increased the effectiveness of managing customer disputes
Want more Oracle AME solutions?
Download the Oracle AME to Oracle EBS R12 Integration success stories bundle
White Paper

Integrating Oracle AME (Credit Memo Approval) with Oracle EBS R12