Integrating the Oracle AP Invoice approval process with Oracle AME to reduce time-to-payment.

Contents
Background
The client is a global manufacturer of physical infrastructure equipment that supports power, communications, computing, control, and security systems. They assist customers in solving business challenges related to the data center, enterprise, and industrial environments Its services cater to end-customers directly and OEMs.
The manufacturer has support operations across more than 120 countries. Because of this massive scale, their overall time-to-payment required a substantial amount of time. In an effort to reduce time-to-payment, and ensure accurate invoices were raised on their clients as quickly as possible, they needed to make their invoicing approval system more efficient.
ennVee needed to implement and integrate the Oracle AME (Approval Management Engine) AP Invoice approval workflow process with the client's Oracle E-Business Suite ERP system (R12).
Solution Approach
A comprehensive solution was designed for the invoice process, including the generation of custom approvals, and enabling users to develop the approved invoice through a customized workflow.
ennVee implemented AME (Invoice Approval Process based on job hierarchy and approval limits) to Oracle EBS Payables within the company's application architecture framework. This generated AME capabilities that would streamline the entire invoice process and approval workflows.
Finally, the integration would enable the company to utilize a single set of invoice data between both applications, automatically generate approvals, and send notification messages to the appropriate employee(s).
Solution Components:
Oracle E-Business Suite (EBS) R12
Oracle Approval Management Engine (AME)
Workflow
Solution Process:
Set up AME approval process by creating an approval hierarchy, approval groups, and rules
Enable the AME setup by using Profile (AME: Installed) and enable Use Invoice Approval Workflow in Payables
Include the Custom Approval Process in Invoice Workflow
AME AP Invoice to EBS Solution Process Diagram: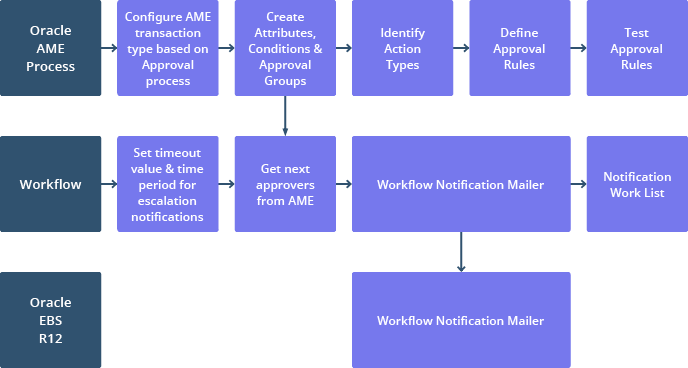 Steps in Oracle EBS:
Setups needed to access the Collection Form

Enable "Use invoice Approval Workflow" under setup

Set the profile option as YES for the profile below:

Profile option name1 -- AME:installed
Outcome and Business Benefits
The AP Invoice solution helped the company boost the efficiency and effectiveness of its invoice approval process. In fact, the duration of the invoice process was reduced from 3-7 days to less than an hour. This was accomplished by:
Streamlining multiple hand-offs for approval with automated workflows
Eliminating redundant data
Minimizing manual and time-intensive proposal generation
Maintaining consistency of invoice approval
Sending automated approval notifications with invoice info to superiors