A look into the new functionalities introduced in Oracle E-Business Suite R12.2.9, five signs that you should upgrade, how to upgrade to 12.2.9, and tips to help you prepare.
Contents
New Features and Enhancements in Oracle EBS R12.2.9
Oracle released the latest version of Oracle's E-Business Suite, R12.2.9, on August 16th, 2019. Let's take a look at some of the new features and enhancements introduced in this release.
Enterprise Command Centers
What are Oracle Enterprise Command Centers?
Oracle Enterprise Command Centers help E-Business Suite users identify and act on priority transactions without custom operational reporting.
What do the command centers provide?
Oracle Enterprise Command Centers provide dashboards that unify operational data across Oracle E-Business Suite. They also provide tools and visualizations that allow users to drill down into business-critical transactions.
Oracle Enterprise Command Centers in R12.2.9
R12.2.9 includes 19 command centers and 62 role-based dashboards and fully integrate with Oracle E-Business Suite ERP and SCM applications.
You can learn more about Oracle Enterprise Command Centers and how to deploy them here.
Oracle Financials
Credit Management

Enhancements to the Credit Limit value display in Case Folders outline a more accurate audit trail.

Oracle Property Management

Summary: Enhancements to streamline the amendments process, improve support for IFTS16 and ASC842, increased flexibility for processing bookings, terminations, and accrual transactions, and provide transparency and the financial impact of contract changes.
Enhancements: Disclosure Reports, Amendments, Amortizations, Transaction Processing, Equipment.
Oracle Order Management
Advanced Pricing


Users now have the ability to populate pricing interface tables using WebADI.
Users can now assign a numeric value to Factors using the new "Factor Rank" column.

Order Management

Usage Based Billing has been added to the Recurring Billing framework.
Instead of creating a backorder, users can ship only the available quantity and cancel the remaining quantity of a sales order.
A new entity Customer Service Representative (CSR) has been added to help companies with two different functions for Salespersons and CSR's.
A "Repricing Preference" Setup Page allows users to determine the attributes that trigger repricing.
Returns Enhancements allow users to receive returns in any UOM and copy globalization flexfields.
Partial Period accounting rule of type has been extended to Model and Option item types.
There is a new option to copy User Defined Attributes (UDA) information to a new sales order or line.
Tax calculations on freight charges in Order Management match more closely the actual tax calculations in Oracle Receivables.
There is a new option to copy billing plans in the Copy Order / Copy Line action.
Oracle Master Data Management (MDM)
Oracle Customer Data Hub (CDH)

Customers now have the ability to allow or accept only one shipment or multiple shipments per order.

Oracle Product Hub

Users can de-select child organization assignments for an item.
An item's primary unit of measure can be updated before performing transactions.
Users can query implemented mass change orders for BOMs and view their details.
Oracle Logistics
Inventory Management

Users can automatically generate a Move Order for backordered items during the Ship Confirmation process.
Users can backorder Move Order lines using PublicAPI.
Users can backorder delivery details without creating a delivery.
Users can add an AME Approval workflow for Cycle Count Approvals and configure the workflow based on attributed used by the cycle counting process.
Delivery only the available quantity and cancel the remaining quantity of a sales order rather than create a backorder.
Enhancements have also been made to the Aging Inventory dashboard and Cycle Counting dashboard to simplify inventory management and the management of cycle counting programs.

Oracle Mobile Supply Chain Applications (MSCA)

12.2.9 adds enhanced support for GS1 barcode specifications.

Warehouse Management (WMS)

A Verify Pick enhancement to help reduce incorrect shipments and RMAs, while improving inventory accuracy.
A Ship Set with Pull Replenishment enhancement that allows users to have ship sets on and use Pull Replenishment for a Sales Order.
Oracle Customer Service and Support
Field Service Scheduler

The Task Type Capacity enhancement allows customers to apply limits to the portion of a trip that can be scheduled to specific tasks.
The User Interface (UI) has also been enhanced to capture missed Service Level Agreement (SLA) Reason Codes, in addition to measuring the effectiveness of the scheduling process.

iSupport

Service request contacts can be disabled.
Support Admins can configure employee access to internal service requests.
Synonym and Fuzzy searches are supported in the Knowledge Management page.

TeleService

TeleService Charges integrate and support Advanced Pricing features.
Search using DFF fields.
Send service request notifications to non-employee owners like partner and supplier contacts.

Service Command Center

New dashboards for Service Managers and Service Agents that help eliminate bottlenecks, provide compliance with SLAs, and quickly recognize, respond, and resolve critical service requests.

Depot Repair

Depot Repair's predictive analytics will predict a root cause and recommend a best fix for service orders. The Technician can accept and automatically apply these recommendations or reject them. These machine learning recommendations are generated using Oracle Data Mining, and will only work if Oracle Data Mining is enabled in the database.

Service Contracts

Quote Printing enhancements allow users to print terms and conditions along with the quote document, which eliminates the need to share multiple PDF files with customers.
Oracle Sales, Marketing, eCommerce
Oracle Incentive Compensation (OIC)

Users can manually cancel transactions within OIC
Users can enable Descriptive Flex Fields (DFF attributes) to specify data type, value set, and other characteristics.
Oracle Human Capital Management
Oracle Learning Management

Administrators can include mandatory and optional courses in a certification.

Self-Service Human Resources (SSHR)

Email confirmations can be triggered when updates are made to SSHR

Oracle Time and Labor (OTL)

The ability to mass upload employee time card entries and an improved dashboard for time card retrieval.
Oracle Procurement
iProcurement

Users can view multiple PO numbers in the requisition summary page.
Users can identify Spotbuy requisitions (emergency purchases that require immediate attention.
The Item Description can now be changed in iProcurement.
Search Requisition lines based on the internal item number.
iProcurement Receiving Pages include a new profile to control the display of outstanding against shipment while creating a receipt in iProcurement.

iSupplier Portal

Bolstered password security for external iSupplier portal users.

Purchasing

Customers can capture additional, business-specific information by leveraging the User Defined Attribute (UDA) framework to build attribute groups and refer to them in purchase orders.
Buyers and Approvers can view and compare changes before approving a purchase order revision.

Sourcing

Enhancements to the Approvals Management Engine (AME) for negotiation approvals.
The ability to negotiate contract terms with suppliers online. 12.2.9 allows suppliers to download, modify, and update contract terms, as well as edit or edit new contract clauses directly. Buyers can generate a report to highlight and review the supplier changes.

Supplier Lifecycle Management

Enhancements to the Approvals Management Engine (AME) for assessment approvals.
Oracle Projects
Project Billing

An enhancement that assists project managers in identifying cost versus revenue without conversion reconciliations.
Invoice consolidation enhancements
A Revenue by Bill group feature to help organizations identify and summarize revenue based on business requirements and criteria.

Project Costing

An enhancement that allows users to maintain one cost budget that rolls up to the general ledger and control the commitments and obligations sustained for the specific project.

Project Planning and Control

Auto-generate and baseline the approved cost budget of the financial plan when a work plan is published/baselined.
Oracle Manufacturing
Discrete Manufacturing

Recalculate the required quantity of components based on assembly over completions and scrap transactions using the WIP parameter.
Update move transaction dates.
Trace sales order demand information for work orders that have been completed.

Oracle Process Manufacturing (OPM)

Quality Management — Support for parallel approvers to enhance the usability of quality management workflows.
Process Execution — Enhances the support for serialization by allowing users to track material issues and completions at a serial unit level.

Quality

Users can view accepted and rejected quantities on the Skip Lot Inquiry page.
Users can create collection elements using a new public API.
Oracle Asset Lifecycle Management
Enterprise Asset Management (EAM)

New AME workflow option for Work Request Approvals.
Users can issue more than one quantity of a rebuild item in the same transaction.
Users can input up to 2000 characters in the Work Order description field.
The Asset Number Web ADI template has been updated to support associations to parent asset numbers.
The Asset Status field has been added to Self-Service pages for Assets and Work Orders.
To streamline SLA's for maintenance requests, users can default work request start and end dates based on Request by Date Setup.
A new feature to filter instance statuses for EAM asset numbers
EAM's GIS integration now supports area and polygon assets.

Oracle Installed Base (IB)

Users can purge old data from the IB transaction interface table.
Update user records based on transaction.
A new feature to set up time-based counters to accept manual readings entries.
Applications Technology
"List Search" is one of the functionalities introduced in R12.2.9 that makes it easier for users to perform table searches in high-use HTML pages.
"Masonry Layout" is one of the new components that improves user experience by making OAF pages responsive across multiple device types.
Query by Example (QBE) can now be used on Advanced and Classic tables.
Java Web Start can be used to launch Oracle EBS on MacOS using the Firefox browser, and a user can now run multiple Forms sessions of the same Oracle EBS environment concurrently on the client using Java Web Start.
Internationalization: Edge and Firefox browsers are now certified for use with bidirectional languages in Oracle EBS, and Oracle Workflow pages now display the date and time of the user's preferred time zone.
Workflow: Users can manually configure item types and messages for which the Oracle Workflow will send emails, and whether various types of attachments should be included in email notifications.
Oracle WebLogic Server: Oracle WebLogic Server security filters can be used to control WebLogic Server Admin Server access from trusted hosts. Instance-specific information has also been removed from the WebLogic Server domain name to improve cloning efficiency.
Oracle Application Object Library: Flexfield segments can be defined to be read-only.
Oracle Report Manager: The Report Manager - Transfer FSG Custom Templates concurrent program can be used to transfer custom FSG report templates between Oracle EBS instances.
Oracle User Management (UMX): Users can now define interface attributes with a source type of Sequence when defining an integrator.
Refer to Oracle E-Business Suite Applications DBA and Technology Stack Release Notes for Release 12.2.9 (Doc ID 2559770.1) for more information.
Check out this article for a deeper look at the features and benefits of Oracle EBS R12.2.
Five Reasons Why You Should Upgrade to 12.2.9
1. You need the functional enhancements provided by R12.2.9
12.2.9 continues Oracle's trend of building on features introduced in previous R12.2 releases — support for modern business models, user interface modernization, and increased operational efficiency.
Upgrading to R12.2.9 will allow you to leverage these functional enhancements, in addition to Online Patching, and the mobile application capabilities introduced in R12.2.
Finally, you can potentially replace your customizations with the standard functionalities built into R12.2.9, which allows you to standardize your business processes and reduce the cost and complexity of managing your customizations. For those upgrading from 11i or R12-12.1.3, keep in mind that Release 12.2 introduces a new set of compliance, code, and patching standards to which customizations must adhere.
2. You want to reduce EBS maintenance and support costs
Upgrading to R12.2.9 helps reduce the total cost of ownership and provides open standards to reduce the cost to maintain and support your EBS environment.
Based on the EBS roadmap (below), customers running R12.1 will continue to receive premier support through December 2021. Versions 11i and lower are no longer supported, which means Oracle does not fix any new issues that arise, and customers can face security risks and certification issues with newer operating system and browser releases.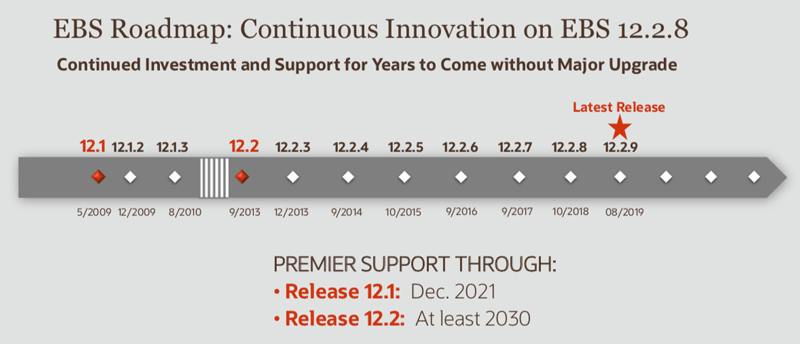 Read This: How a consumer products company reduced application support costs by upgrading from Oracle EBS 11i to R12.2.6
3. You need to stay in compliance
Upgrading to R12.2.9 ensures that you receive the latest tax and regulatory updates from Oracle, and stay compliant with SOX (Sarbanes Oxley), ITAR (International Traffic in Arms), etc.
4. You want to consolidate multiple EBS instances
Common scenarios include companies with multiple business units running different versions of Oracle EBS, or recent acquisitions of companies that are running legacy ERP systems like QAD, AS/400, etc. An upgrade to R12.2.9 can help simplify application complexity by consolidating your business units into a single global instance.
Read This: Manufacturer Upgrades from 11i to R12.2.5
5. You are committed to Oracle's direction but not ready to migrate to Cloud
Opting to upgrade to R12.2.9 can still allow you to provide a more stable platform for your end users. There are plenty of new functionalities and User Interface enhancements to help modernize your business processes for greater operational efficiency. You can also utilize the Online Patching feature, which provides higher availability and reduces downtime for patching and maintenance.
Read This: Six Essential Tips for Your Oracle E-Business Suite R12.2 Upgrade
How to upgrade to R12.2.9
You can download and apply the 12.2.9 release update pack (RUP) on My Oracle Support (Patch 28840850). Detailed instructions on how to install the RUP can be found here.
The table below highlights the direct upgrade path to R12.2.9 for Oracle EBS R12.2.x, R12.1, R12.0, and 11i customers.
| | | |
| --- | --- | --- |
| Current Version | Direct Upgrade? | Instructions |
| R12.2.x | Yes | R12.2.x customers can apply 12.2.9 directly to their environments. 12.2.9 is an online patch, so it can be applied while an existing R12.2.x system is running. |
| R12.1 | No | Upgrade to 12.2 first before applying 12.2.9 |
| R12.0 | No | Upgrade to 12.2 first before applying 12.2.9 |
| 11i | No | Upgrade to 12.2 first before applying 12.2.9 |
How to prepare for an R12.2.9 upgrade
Functional Assessment
A thorough functional assessment can help you determine which customizations to replace with standard functionalities in R12.2.9.
Customization Impact Assessment
A pre-upgrade impact assessment can help you understand the complexity of your level of customization and how that will impact the upgrade.
This exercise can include cataloging customizations by object type (database, setups, RICEFW/CEMLIs), and determining which objects will require code changes. Ultimately, this exercise can help you understand the amount of time and effort required to fix the custom code and the types of resources needed for the upgrade — i.e. developers, techno-functional consultants, etc.
Oracle provides various utilities to assist in this process like the Online Patching Readiness Reports and Online Patching Standards Compliance Report.
Automation Tools
Evaluate the various tools available that can automate repetitive upgrade tasks like code remediation and testing. ennVee's ennABLE tool automatically identifies and remediates Oracle EBS custom objects from 11i/R12.x to R12.2.
Understand R12.2 Development Standards and Editioning
You can simplify your upgrade by getting up to speed on the R12.2 object development standards, concept of "Editioning", and Editioned versus Non-Editioned objects. Check out our guide to Database Object Development Standards and Editioning in R12.2.
---
For more information on upgrade automation, visit www.ennvee.com/ennable or schedule a live demo.
---