Why NetSuite Health Check is Important for Your Business?
An ERP system needs to be managed for continued success. Besides a well-planned implementation approach, a dynamic solution like NetSuite Cloud ERP also needs to be optimized from time to time to maximize outcomes. Even after successful implementations, companies may still struggle to arrive at desirable ROIs. This is when the NetSuite environment is not maintained, managed, or optimized as it should be.
A NetSuite health check is a good place to start with. An ideal implementation partner will assist you with detailed audits, identifying the scope of improvements and modifications, and in turn, helping in aligning your NetSuite environment to your changing goals.


What is a NetSuite Health-Check?
A NetSuite Health Check is a system for reviewing and evaluating a business's NetSuite environment. This involves an in-depth report of the customer's current NetSuite implementation and configuration, identifying roadblocks to the complete utilization, and advice on remediation of current issues and challenges.
With a NetSuite health check, a NetSuite solution provider helps you to identify your areas of risk or potential benefits, create awareness of various features in your NetSuite instance that are not yet leveraged by your business, and guides you with an actionable report on enhancement and improvement measures.


When is NetSuite health check necessary?
When the organization feels that the present NetSuite instance is not fully supporting the business's needs

When the organization wants to add additional features to NetSuite ERP

When the goals set during initial implementation are not being realized

When a business adds newer business lines, products, services, and markets

When the business has been using NetSuite ERP for some time and there is a need for the processes to be upgraded to industry best practices

When the business feels that the compliances, controls, and validations in their NetSuite instance require improvement

When there is a corporate revamping, restrategizing, or new statutory requirements

When a business wants to improve the ROI on their ERP investment

When a business wants to review its ERP system periodically


Why is NetSuite health check important?
Though NetSuite processes are designed based on industry best practices, it supports customizations incorporating the unique requirements of the business. To this end, many NetSuite users customize their configurations. There would be custom records, scripts, fields, and saved searches, and with time it is difficult to track as to which are utilized or needed. Such unchecked customizations can lead to a disorganized environment which can slow down the experience.
In addition to this, there could be concerns experienced like process bottlenecks, visibility concerns, no major productivity improvements, or lack of significant reductions in administration costs. A NetSuite Health Check will help you identify how can your ERP system be organized and cleaned up so as to improve productivity and efficiency. It specifically highlights where performance can be improved and where enhancements can be made.


NetSuite Health Check Process:
Pre-Consultation: This stage involves studying the customer's business, and existing NetSuite implementation at length to be able to propose alignment of NetSuite ERP to the newer needs.
Documentation: In this stage, the business's pain areas & operational issues are defined. The customer's NetSuite configuration is mapped and documented.
Examination: The existing third-party applications are assessed to identify the possibilities of consolidating such data silo points into NetSuite. It also involves looking for unused out-of-the-box features, built-in reports, KPIs, functionalities, and optimization opportunities.
It also studies the need for any additional customization, enhancements, new reports, automation, controls, segregation of duties, streamlining approvals, validations, and integrations that are required to address unique operational and business needs.
Reports & Recommendations: Based on the examination, reports, and recommendations are presented to improve the NetSuite instance, enabling new features and recommendations on how to scale the system.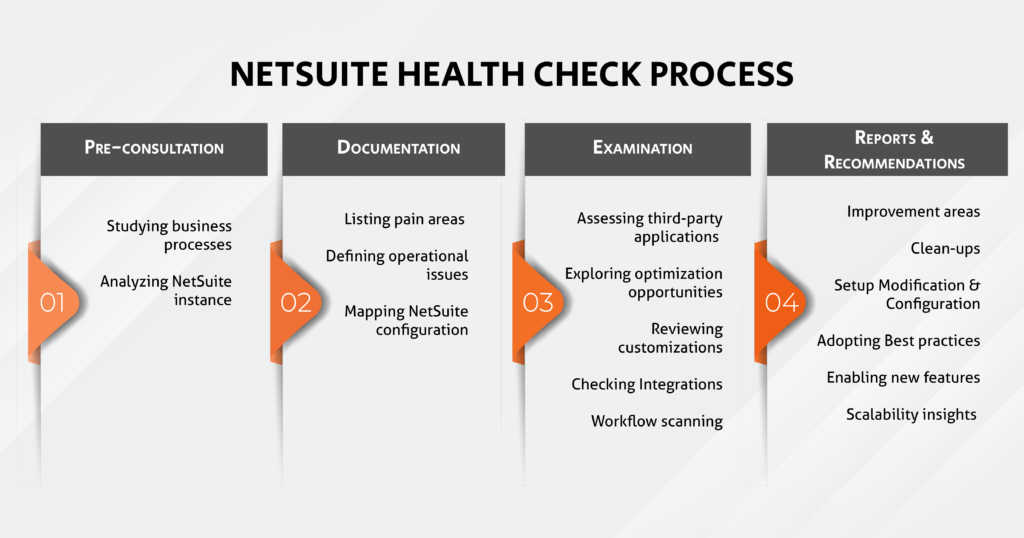 What is covered under NetSuite Health Check?
Usually, the scope of the health check is defined based on the concerns and challenges faced by the customer. However conventionally, a NetSuite health check shall comprise of the review of the below mentioned.
NetSuite Modules Setup Review: Master setups, components, add-on modules, enabled non-enabled features, the effectiveness of external integrations to third-party applications, financial and accounting setups, custom centers, categories, and scorecards.
Dashboards, Searches, Lists and Reports Review: Custom reports from financials, sales, and operations; role-specific, published dashboards, custom portlets; lists in the features enabled, relationships, and case management.
Process Review: Issues in the routine operations, excessive manual intensive data points, errors in SOPs, fitment for additional SuiteApps, and need for additional customizations.
Fitment Analysis: Applicability of additional SuiteApps, analytics, and enhanced features/functionalities to support efficiency and effective utilization goals.
How can ennVee help you with NetSuite Health Check?
ennVee has been providing NetSuite implementation, optimization, customization, enhancement, management, and support services for more than 8 years. With combined domain expertise of over a decade, we have been serving a global clientele across industries.
Identifying gaps, concerns, and improvement spots in their ERP

Helping them reap better value and ROI on their ERP investment

Map their system preferences against leading business practices

Suggest modifications in setups and configurations

Recommendations for custom workflows, scripts, and data

Improvement of reports, dashboard, and process

Identifying scope for enablement of advanced features in modules

Proposing training paths and process modifications
---