Do you know how many Discoverer reports you have? The number is likely two or three times higher than you think.
In an earlier post, we covered some of the popular Oracle Discoverer migration options and reasons why many organizations aren't in a hurry to replace Discoverer. Migrating from Oracle Discoverer isn't usually the highest priority for many. Oracle's now-unsupported, ad-hoc reporting platform still works so many organizations are not in a hurry to migrate from Discoverer.
With that in mind, you will need to migrate at some point. Assessing your current environment is a proactive exercise that will help you understand what to expect in terms of project size, scope, budget, and duration. If you are unsure where to start or dealing with a stalled migration, a detailed assessment can improve your chances for success.
ennVee provides a 1-week Discoverer migration assessment that identifies every report and builds a project plan to migrate to any platform. Continue reading about what you get from the assessment, how it works, and why you should perform this exercise.
Discoverer Migration Assessment Deliverables
1. A detailed list of every Oracle Discoverer report, workbook, worksheet, and associated elements
Discoverer has been around for decades so it's not uncommon to find that you may not know the exact number of reports that exist. Not knowing exactly how many reports you current have can making it a challenge to accurately forecast the cost, time, and effort involved in migrating to another platform.
Our migration assessment identifies and lists out every:
Discoverer report, workbook, and worksheet

Elements like files, folders, and business areas

Report owner by individual report

The department or business unit to which each report belongs
The assessment also identifies any duplicate, triplicate, or obsolete reports in the system.
2. A Proof-of-Concept (POC) to migrate 1 Discoverer report to any platform
Choosing a replacement for Oracle Discoverer requires a substantial amount of research and input from your business users. For our POC, we convert one of your Discoverer reports to your platform of choice.
If you are still deciding on a replacement platform for Discoverer the POC helps you visualize and test the functionality of your reports so you can narrow down your search for the ideal replacement for Oracle Discoverer.
We can convert one of your Discoverer reports to the following platforms:
3. A Discoverer migration project plan
We use the information gathered during the assessment to create a customized migration project plan that includes multiple migration approaches and fixed-bid pricing options to migrate to your desired platform. Typically, we include two migration approaches:
Approach 1: Migrating the Discoverer reports "as-is" without any enhancements. When converted to your target platform the reports will mirror how they appear in Oracle Discoverer.
Approach 2: Migrating the Discoverer reports with additional enhancements in your target platform. Our team works with your users to add visualizations to the reports such as graphs, charts, tables, etc.
Here's a video that illustrates our automated Discoverer identification and extraction process in less than 90 seconds:
Assessment Connectivity Instructions
Our team will need access to the Discoverer environment to run our tool and conduct the assessment. Typically, the assessment is done remotely using VPN, Citrix, or RDP. No data is removed from your environment or brought into our own environment. We've also put together a Discoverer Migration Assessment Connectivity Checklist that covers the requirements needed for each method.
If you have concerns about the methods of connectivity used to perform the assessment, or you are a government, public sector, healthcare, or financial services organization, contact our team and we will address these areas for you.
Sample Migration Assessment Output
A list of all Discoverer reports by Schema, Business Area, Workbook Name, Folder Name, Folder Type, and Complexity of the SQL: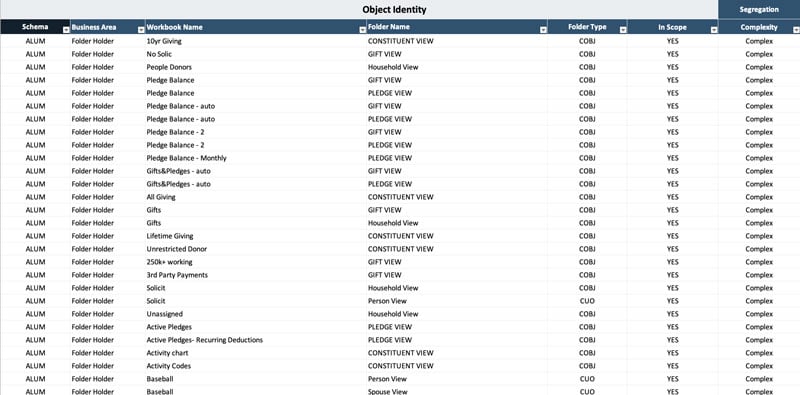 An effort estimate by individual report, including Analysis, Build, Test, and Document: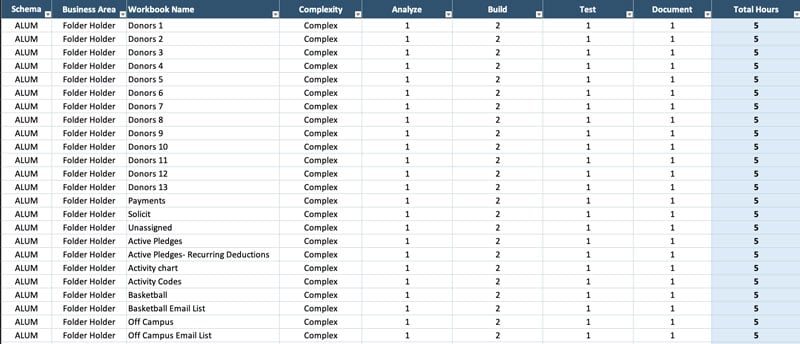 What happens after the assessment?
You can move forward however you'd like — whether you manage the migration internally or use ennVee's automated services. The assessment includes a comparison between the cost and time to migrate manually versus using ennVee's services.
If you move forward with ennVee, we use our ennSight tool to automatically extract the complete reports from Discoverer before our team migrates them to whichever platform you've selected. The tool automatically extracts:
Reports
Workbooks
Worksheets
Folders
Files
Business Areas
Calculations
Infrastructure
Conditions
Joins
Hierarchies
Classes
Business Rules
Roles & Security
You can download the ennSight Automated Discoverer Extraction Tool datasheet to learn more.
How the assessment helps
Budgeting and planning — The assessment takes care of 60% of the project planning work, and helps you determine what your Discoverer migration will cost, how long it will take, and whether to migrate internally or use an outside firm.
Reduce your total report count — The majority of organizations that have done an assessment found they had two to three times as many reports than initially estimated. The assessment provides an opportunity to clean up your reporting environment and minimize the cost and risk associated with migrating non-essential reports.
Use Case: A migration assessment for a US-based university with more than 70k students and 23k faculty and staff
The university engaged ennVee to assess its Discoverer reporting environment, which they estimated to have approximately 3,000 Discoverer reports. After finishing the assessment we identified ~13,000 total reports. A bulk of the reports were duplicates with a few minor changes that were saved as a new report.
This exercise provided the university invaluable data which enabled its business users to scrub the list of reports down to only those that needed to be migrated. Had they gone through the migration under the guise of their original estimate, the migration would have likely exceeded the timeline and budget allocated to the project.
Further Reading
Click the link below to start your Discoverer migration assessment. You can also request a free demo or contact our sales team for questions and pricing.
---